We experience a lot of Range Rover Evoque vehicles that are failing to start or release from park.
This can be caused by a multitude of issues which will need professionally diagnosing.
Our team of skilled and experiences technicians are able to diagnose what the fault is and the required fix.
We offer vehicle recovery back to the garage for a small charge. If you are in this situation please speak to a member of the team for details and costings.
Drop off your Range Rover any time between 8-10am. Collect when it's ready from 4:30pm until we close.
£ FREE
Relax with refreshments and free wifi in the P3 lounge whilst you wait for your vehicle.

£ FREE
Courtesy lifts to and from 'The Trafford Centre' 'The Lowry' and other local attractions.

£ FREE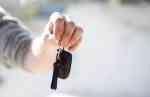 We will collect your Range Rover from your home or work between 8am-11am then deliver it back by 6pm.
£ FREE
Drop off your Range Rover between 8am-11am, and drive off in a loan car. Collect your car by 6pm
£ FREE